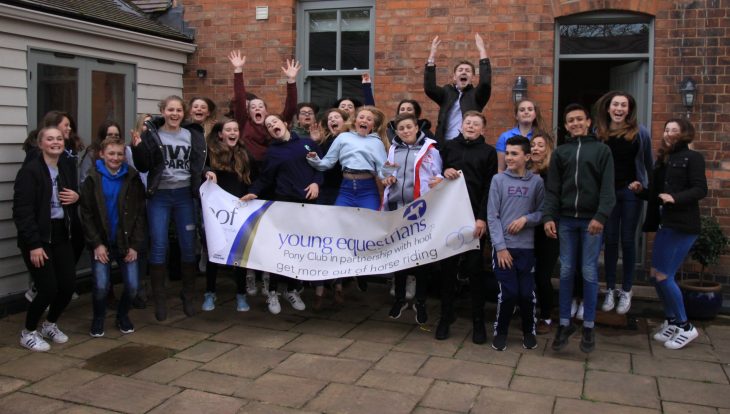 ---
If you're a Young Equestrian then register with us to recieve updates, monthly newsletters and to be entered into regular prize draws!
Terms and Conditions
I understand that the Pony Club, who manage the Young Equestrians scheme, will:
Not share my personal information with a third party for the purposes of them contacting me directly
Contact me with information about Young Equestrians and Pony Club activities, and the activities of its partners (who are both commercial businesses and organisations such as the British Equestrian Federation). Only the Pony Club will send me this information in order to meet the legitimate interests of The Pony Club, its partners, and me as a Young Equestrian Club Member.
Share some personal information with its partners for data analysis / research and development purposes only. Any organisation that personal information is shared with will have to comply with the requirements laid out under the Data Protection Act for handling personal data.
Use the personal data I provide for its registered purposes and as outlined in the privacy policy on The Pony Club website
By registering with us you agree that any photographic and / or film footage taken from Young Equestrians sessions can be used and published in any media, whether this be online or other forms of publication, for editorial purposes, press information and / or advertising by or on behalf of The Pony Club and the British Equestrian Federation. The information will only be used in accordance with the Data Protection Act 1998 and The Pony Club will select photographs for publication with care and respect for those shown. You have the right at any point to ask The Pony Club to stop using images in publications however we cannot recall any film or other publication in which those images have already appeared.
Please note that websites can be viewed throughout the world and not just in the United Kingdom where UK law applies.
Code of Conduct
Young Equestrians should:
Show respect for ponies / horses, coaches, officials, competition organisers and stewards and their fellow Young Equestrians Club members
They should not:
Possess or consume alcohol or illegal and performance enhancing drugs
Smoke
Engage in sexual activity
Use foul language
Tolerate or be involved in discrimination of any kind
Bully anyone including cyber bullying