At only 25 Lucy is an accomplished individual with many achievements:
She has been a member of Equestrian Team GBR since the age of 11
She was the youngest member of Equestrian Team GBR at the World Equestrian Games in 2002
She has been the English Senior Female Individual Champion 8 times – and is the current title holder!
She was ranked 7th on FEI World Vaulting Rankings for 2015
As well as this, Lucy has also completed an undergraduate degree in Sport and Exercise Sciences PLUS a Masters Degree in Strength and Conditioning! Bronté from Young Equestrians caught up with Lucy to discuss her journey so far, and the work involved to stay at the top of her game!
B: What made you want to start vaulting, how did you get into such a technical sport?
L: I started gymnastics and horse riding at the age of 5. At 7 my Mother's dressage trainer suggested she should take me to the local vaulting club then based at Stoneleigh Park. I fell in love with the sport and never looked back.
B: What training is involved to keep you in shape for competitions?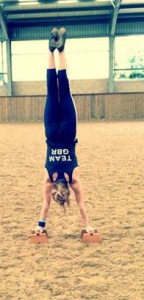 L: My training schedule is pretty intense. I tend to vault 2 or 3 times a week, as well as doing some technical sessions on the barrel 3 times a week. I also go to the gym 3 times a week to work on my strength and plus I do some cardio, such as going for a run or a swim, twice a week to keep my fitness up. The other important aspect of my training is making sure I have specific sessions for stretching and recovery, so I plan in 3 sessions per week for that. All in all it adds up to 20 hours a week for my training time.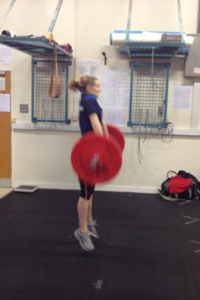 B: Wow. That's a lot to fit in. Do you have time for anything else?
L: I work full time for the British Equestrian Federation in the World Class Department, so work obviously takes up a large proportion of my week days. I also coach the Unicorn Vaulting Group one evening a week which I really enjoy because I get to give something back to the sport that has given me so much. My horse is a normal riding horse as well as my partner for vaulting so it is nice to spend some time hacking and schooling with him too.
B: I feel lazy now as I only manage to ride quick after work! How do you manage your time?
L: I am not sure really! I have a really good support team who I couldn't be without. It's also all about balance; I have routines which I map out on charts and colour co-ordinate (see below). As well as riding (purple), working (blue), sleeping (pink) and training (green), I have learnt to make sure I plan in social time on my weekends (orange) and as daft as it sounds I also need 'me time' for showering, making food etc (yellow).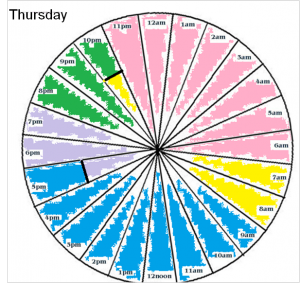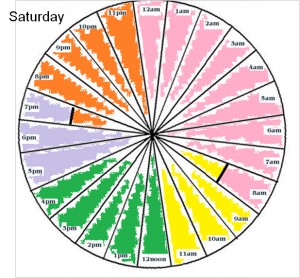 B: You mentioned your support team, who are they?
L: The support team is for both me and my horse. He needs keeping fit and well as he is also an athlete. He has the farrier, vet checks and his diet monitored. I am lucky that my mum has a dressage background and will ride and lunge him, she is also my lunger and my coach.
B: I have watched you in action and it looks amazing! How can our YE groups get involved with vaulting?

L: The best way to get involved with Vaulting in Great Britain is to have a look at the British Equestrian Vaulting Website and find a club near you!
Click this link to watch Lucy in action at the European Championships!