Hi guys! My name is Charlie and I'm based at Church Farm Equestrian Centre, which is located in Bristol. We're setting up a Young Equestrians group soon (headed up by yours truly) so I thought I'd give you a bit of information about me.
I'm 17, which means when I'm not on the yard I'm prepping for my A Levels. I go to Chew Valley 6th Form and I am studying Biology, English Literature and History. I really enjoy my school and I have my exams soon, starting in May which I am both nervous and excited about! I enjoy many different aspects of the subjects I study and I am considering many different careers; from Physiotheraphy to English Literature to Animal Science.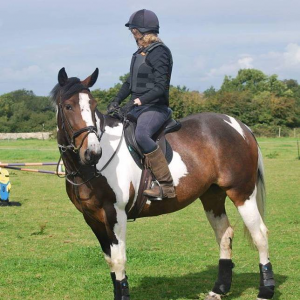 Riding wise, I started riding when I was 3 and that was when I got my first pony, a cheeky chap called Fudge. Four horses later and I own my current mare Hope. Hope is a 16hh Warmblood x Cleveland Bay and is
6 years old, we actually have the same birthday so it is easy to keep track of her age! I enjoy doing all aspects of riding from dressage to cross country, I especially love taking her out to competitions with my mum.
I got into riding as my mum, Kay, is a riding instructor and I have been surrounded by horses from 6 months old so I was hooked from a young age. I love the atmosphere when I am around horses. You are surrounded by creatures that can bring such a ray of emotions and my friends and family also have a role to play, they make the training and competitions that bit more enjoyable as you get to share your excitement with others; that is what riding is all about…happiness!
Church Farm Equestrian Centre is the business my mum set up in 2013 at a small yard in Queen Charlton and it has been the biggest life changing event in my life. I have met so many new people in these short 3 years and had so many new experiences that I am sure will help my progress in life. When I first heard about YE (Young Equestrians) I was immediately hooked as I loved the idea of following in my mums footsteps and leading a group for people my age, making close friendships that will be able to be present both on the yard and outside of horses. There are 8 of us to start the group off, but hopefully more people will join too!
I have many interests as I don't enjoy being bored. My biggest passion after horses would be photography, I enjoy capturing memories that would otherwise be forgotten. I also have a puppy called Pippa, who can often be found in the arms of the young girls at the yard! Pippa and Hope are 'my girls' as my mum says, so they take up a lot of my time!
That's me in a nutshell really! Next time I blog I will talk about our first YE session and how it all went. Speak soon, Charlie!